Cons.Stimata:
Costo Cons.Stimato:

£0.00
Police car with working flashing lights!
This battery powered, ride on electric car can be driven by the normal in-car controls by using the gearstick and pedal. The parental control can also be used to operate the car in forwards and reverse gears, and also turn the steering wheel left and right.
Opening doors - Realistic opening doors.
Two seater - This model is fitted with a double seat, suitable for two younger children, or one single older child.
Working front and rear suspension - Real working suspension!
2.4G Bluetooth Parental remote control - The car can be used with the in-car controls, using the pedal, forwards/reverse gear-lever and steering wheel, or can optionally be used remotely with the parental control. The parental radio remote can operate from up to around 20m away and controls forwards/reverse and moves the steering wheel left and right. The remote is a 2.4G Bluetooth type, so will not be subject to any interference.
MP3 player input - The car comes with a cable which plugs in to the dashboard, allowing an MP3 player or any other device with a headphones socket to be plugged in, and the music played through the car speaker. Plugging in a device disables the in-car sounds!
USB / SD Card input - The car also has slots on the dash allowing a USB device or SD card to play music played through the car speaker.
Steering wheel sounds - The steering wheel has a button that plays a horn sound, 'beep beep'!
Working lights - The blue/red flashing lights, and front headlights can be switched on and off using the dashboard switch, the rear lights illuminate in reverse.
Twin motors - Twin motors for each rear drive wheel means better performance on rougher surfaces or grass.
Horn and music sounds - Steering wheel activated horn and music sounds.
Battery meter - Dashboard mounted battery meter to indicate remaining playtime.
NOTE: This car is NOT suitable for two older children sitting together - check seat dimensions before purchasing!
Other Information
Parental Remote - Included (optional use), 2.4G Bluetooth
Suitable age range - 3-6 (or younger with full parental supervision)
Charge time - 14 hours for a full charge
Run time - Up to 1 hour from a full charge (depending on the type of use)
Battery type - 12V (1 x 12V 4.5Ah) lead acid
Motor type - 2 x 12V 35W
Maximum speed - 3.5km/h
Suitable operating surface - Firm, flat surfaces and flat lawns only
Dimensions - 110cm x 68cm x 52cm
Box size and weight - 110 x 58 x 37cm, 20Kg GW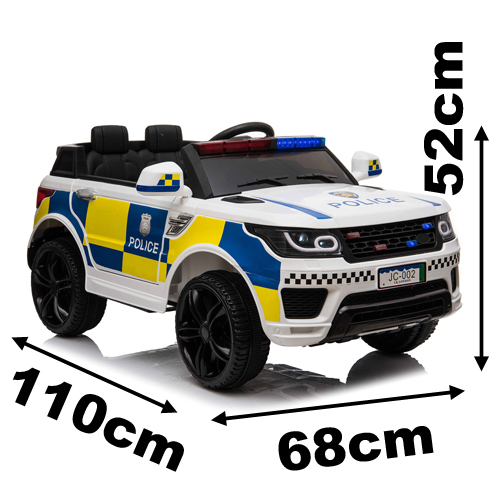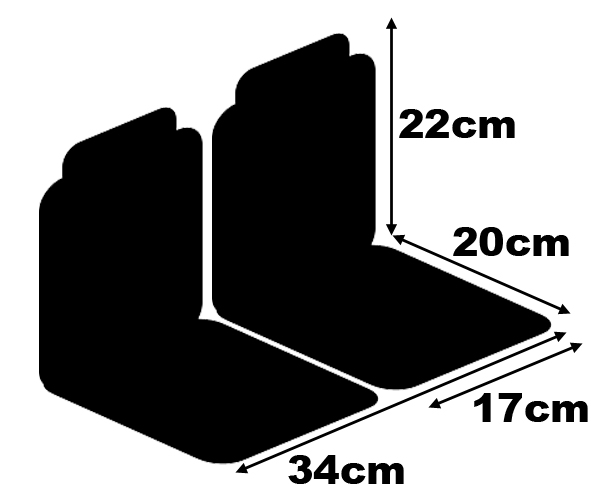 1 x Telecomando
1 x Cavo di collegamento Mp3
1 x Manuale per l'uso
1 x 12V batteria e caricabatteria
1 x Auto della Polizia
Per la tua sicurezza, quella di tuo figlio e degli altri, ti suggeriamo di comprendere interamente le linee guida consigliate per questi prodotti.

La vostra automobile a batteria non deve essere utilizzata né su strade pubbliche, né su marciapiedi ma all'interno di una proprietà privata con il permesso del proprietario.

Consigliamo di indossare delle protezioni come il casco, le ginocchiere e il proteggi gomito.

I bambini devono essere sempre sorvegliati da un adulto durante l'utilizzo del veicolo.
é fondamentale per la sicurezza del bambino e per garantire le prestazioni ottimali del prodotto che vengano lette e seguite attentamente le istruzioni prima dell'uso, incluse le informazioni sulla ricarica della batteria.

In caso di dubbio non esitare a contattarci per ulteriori suggerimenti.